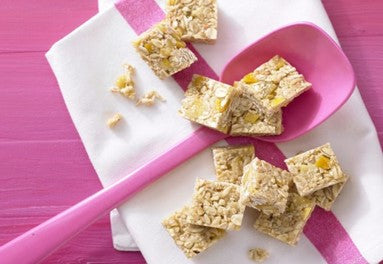 Mango and Almond Cereal Cubes
Ingredients for 30 Pieces
½ cup g of Fuel By Nature Dried Mango
2 oz chopped almond kernels
1 tbsp sesame
2 oz ground almond kernels
½ cup hearty oat flakes
1 oz butter (2 tbsp)
2 oz sugar
½ cup honey
1 tsp orange juice
Preparation
Total time approx.  20 minutes
1. Finely chop the mango.
2. Roast the chopped almonds and sesame seeds in a non-stick pan until light brown.
3. Mix the mango, chopped and ground almonds, sesame seeds and oatmeal in a bowl.
4. Melt the butter in a pan. Add sugar, honey and orange juice and bring to the boil while stirring.
5. Cook over medium heat for 2 minutes, stirring, until the mixture becomes liquid and golden yellow.
6. Take the pan off the stove. Mix in the mango and almond mixture well until the mixture is even.
7. Place the mixture on a baking sheet lined with baking paper and roll it out under cling film to about 1 inch thick. Remove the foil and let the mixture cool down for approx. 20 minutes.
8. Cut the mango and almond blocks into approx. 30 squares and let them dry overnight on a work board.
---
Older Post
Ginger and Apricot Chicken
Newer Post
Mango Cheesecake Bars